Jun 22,2019
/

New Renault TRIBER
Introducing the car that loves adventure as much as you do – Renault Triber
Now make space for everything you've ever been passionate about.
Triber is the all-new compact seven-seater with a 5+2 seating configuration providing flexibility, versatility and practicality for the young generation with a completely different proposition.

With its ROBUST AND ATTRACTIVE EXTERIORS, the Renault TRIBER is sure to make heads turn.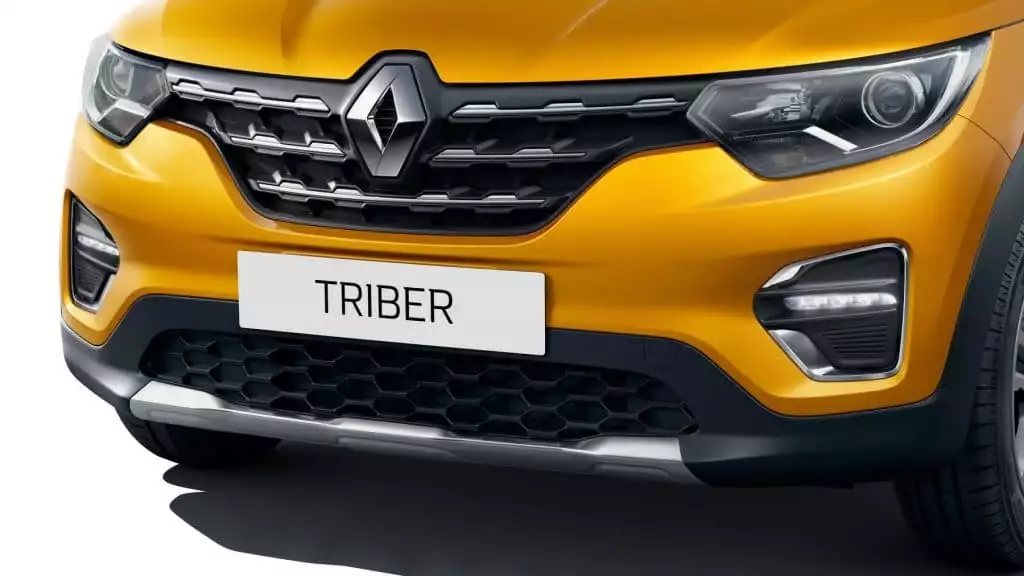 Open the premium pull-type door handles you're bound to like what you'll see on the inside of the Triber.
The super spacious TRIBER features a stylish Dual Tone Dashboard with silver accents, an LED Instrument Cluster and Twin AC. The triber hosts a nice mix of matt textures and colours, chrome detailing and a metallic finish that runs across the dash only to further add to ambience. To get more information, on offers and pricing, visit your nearest Renault showroom in Pune
Its easy-to-use Media NAV with 20.32 cm Touchscreen comes integrated with Android, Apple CarPlay, Push-to-Talk and Video Playback options. The car also has Smart Access Card with keyless entry and the Push Start/Stop Button, enhancing your driving experience.
The Triber is built on Renault's new CMF-A+ platform and its suspension comprises of front MacPherson struts and a rear torsion bar.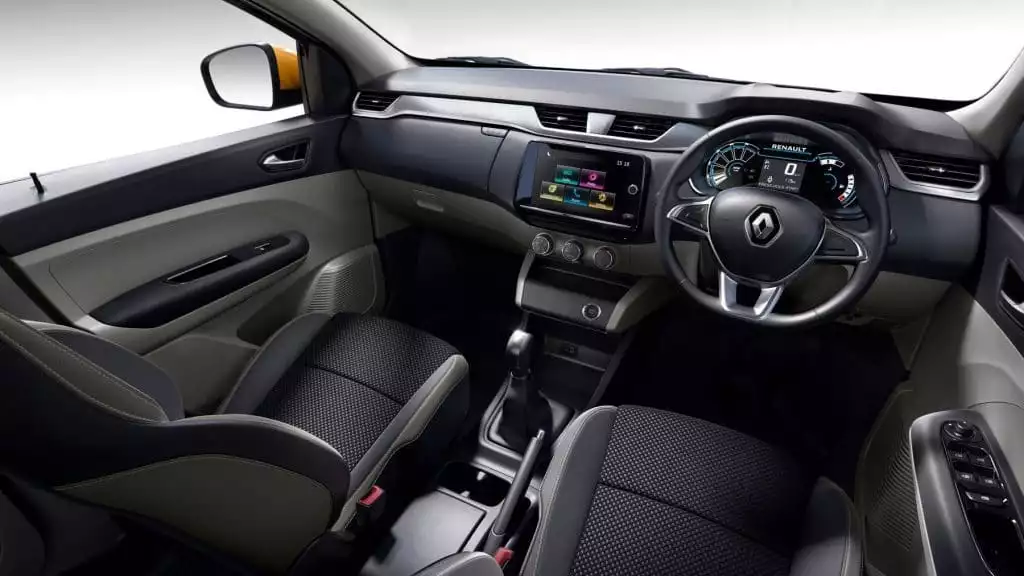 With all seats in place, the Triber has a luggage capacity of 84 litres so there's space for a laptop bag or two at best. However, the rear-most seats split, and fold and you also have the option to remove them altogether. You don't need any special tools to remove the rear seats either.
First off, we have the 7-seater configuration with all the seats in place and upright. To access the last row of seats, you can slide and fold forward the 40-section of the middle row. In this layout, the Triber still has 84 litres of boot space with AC vents for each row with blower controls. Middle row passengers get a charging port while the last row occupants get roof-mounted vents. Third row passengers also get armrests (built into the body panels).
TRIBE MODE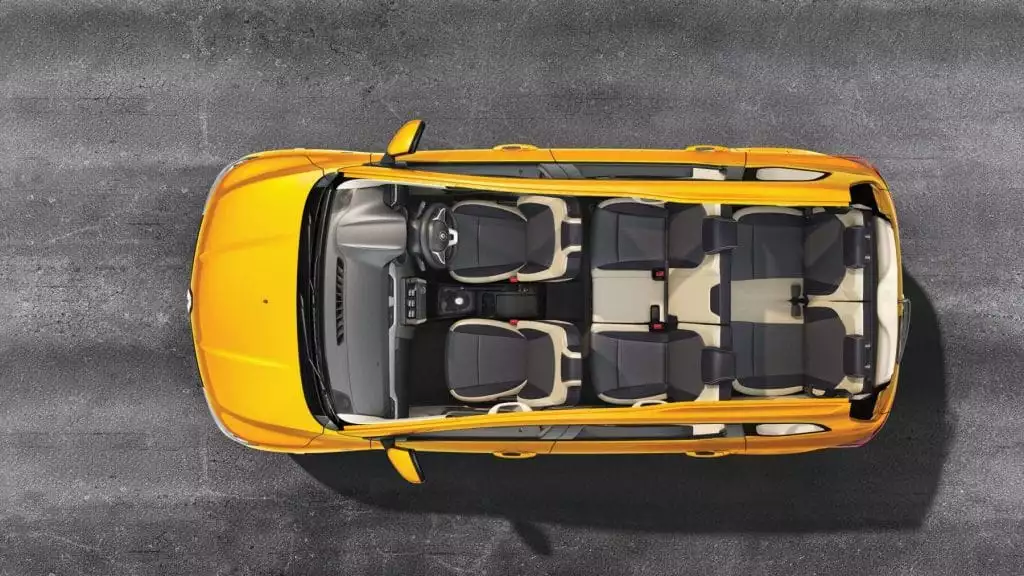 Next is the 5-seater configuration, which is the most common 'mode' that the Triber will be used in. There's up to 200mm of leg room for the middle row passengers and two height-adjustable headrests (none for the middle seat).
LIFE MODE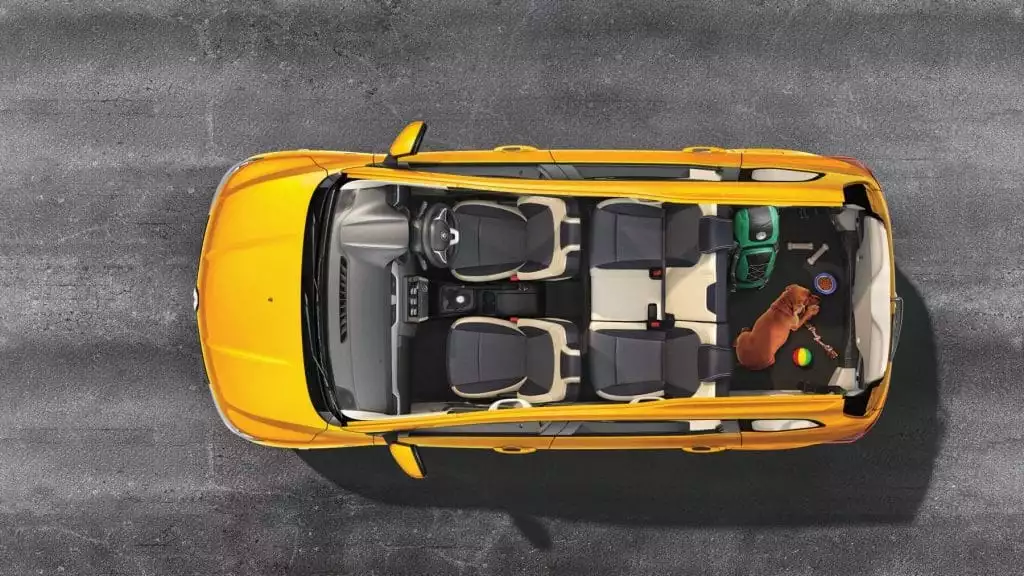 In between these two 'modes' is the Tribe's 6-seater configuration. This opens the boot space from 84 litres to 320 litres. So, you get space to fit in a few more bags and still have more than 5 seats.
The Renault Triber also has a four-seat layout. This is achieved by using one of the third-row seats and folding down the 60-section of the middle row. If you line up the empty rear space with the folded-down middle seats.
SURF MODE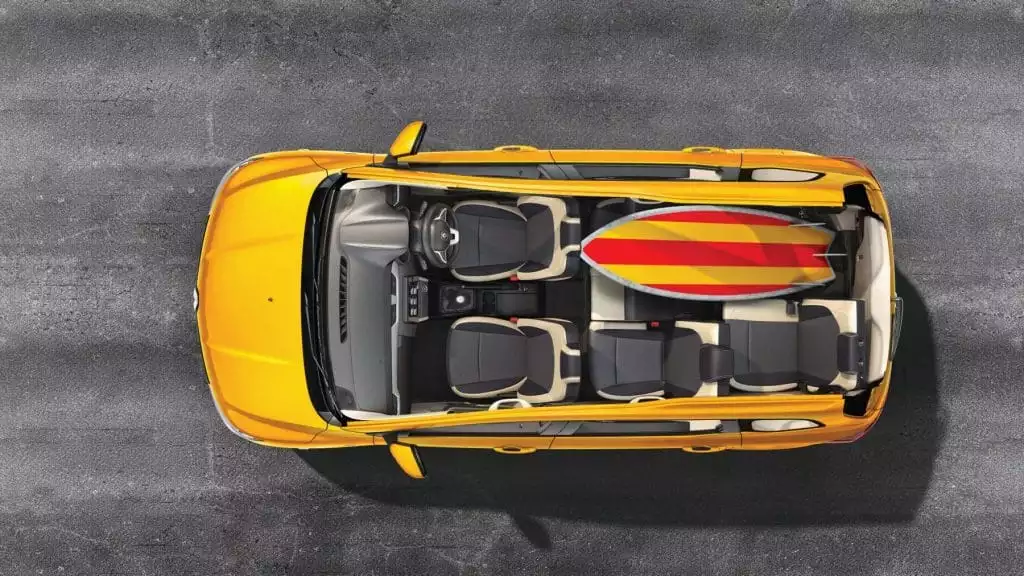 Finally, we have the two-seater configuration of the Triber with no third-row seats and the middle row folded down. Surprisingly, Renault has not stated the exact storage capacity of this layout, but they did illustrate that it is enough to carry enough items for a two-person camping holiday.
CAMP MODE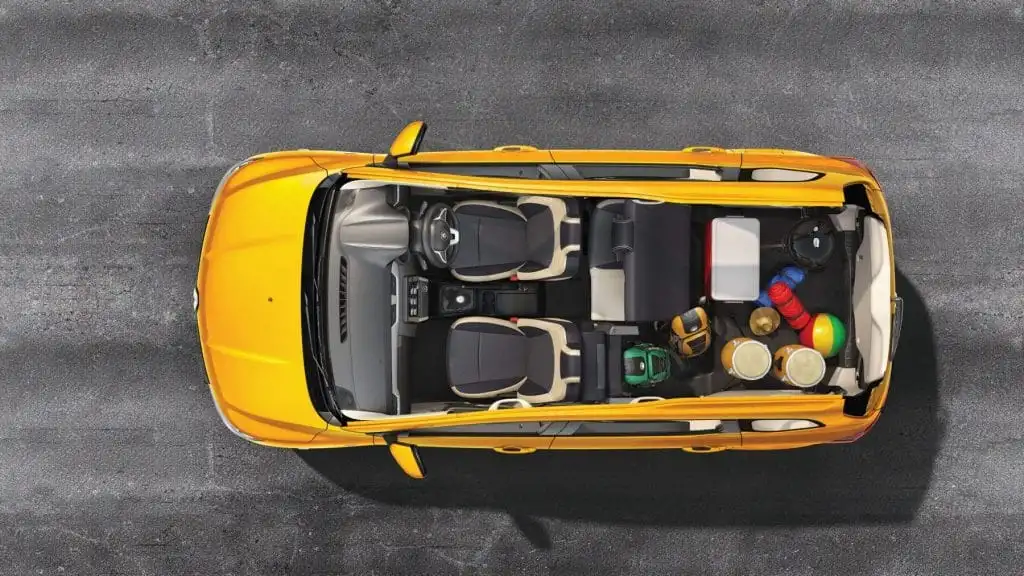 There are still further possibilities of seating configurations to play around within the Renault Triber, depending on what you need.
The Triber is powered by a 1.0-litre, 3-cylinder petrol engine only. It will be tuned to develop 72PS of maximum power and 96Nm of peak torque and offered with a 5-speed manual transmission as well as a 5-speed AMT.
Renault has also equipped the Triber with a refrigerated drinks holder. It is positioned at the end of the central console tunnel, making it accessible to both front and middle row passengers.
Inside it, there are controls to toggle the cooling on and off in case you don't want to use it as a refrigerator and keep something else. Visit the Renault dealers in Pune to test drive a Triber today.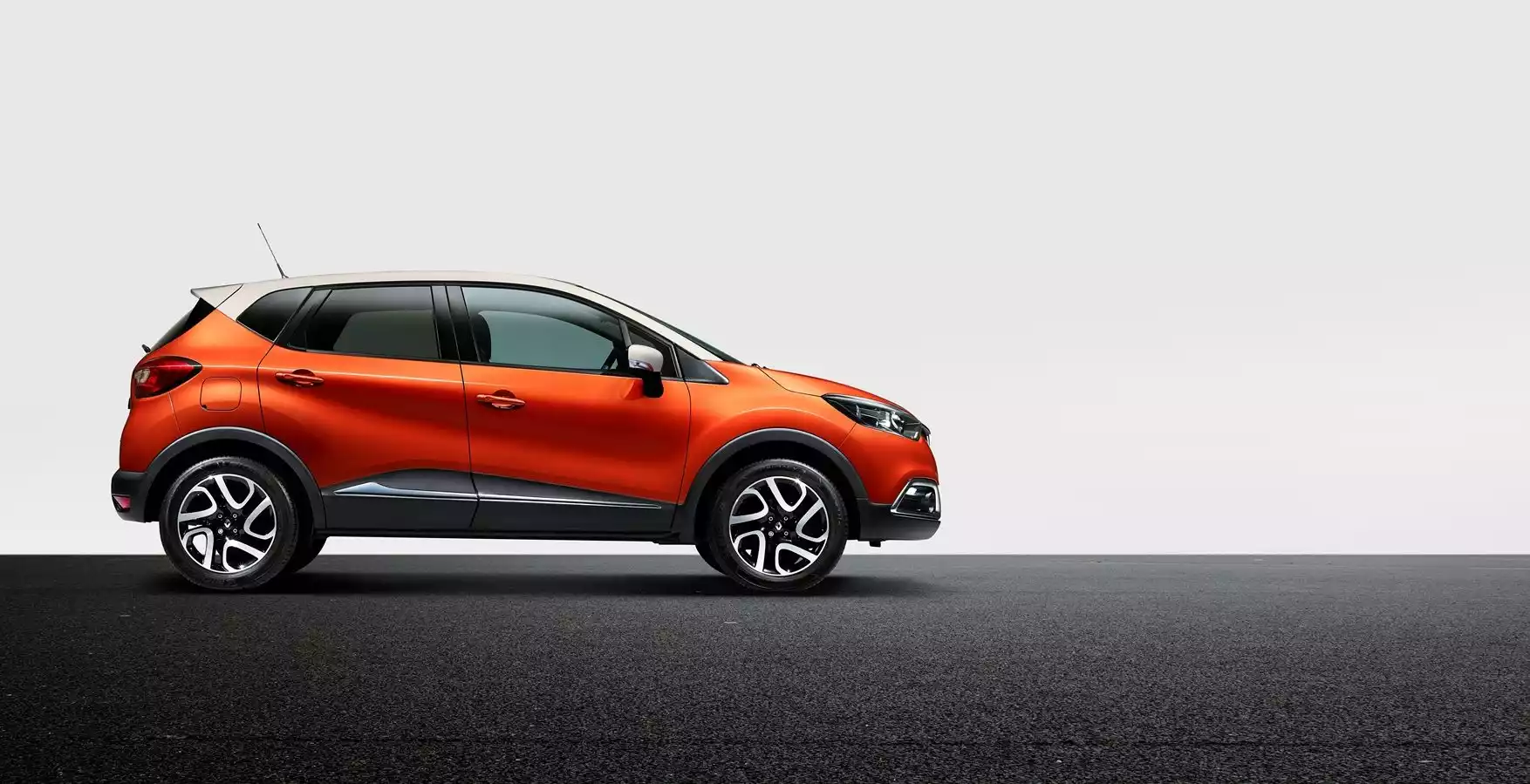 Experience the 2019 Renault CAPTUR with all its grace
Jul 12,2019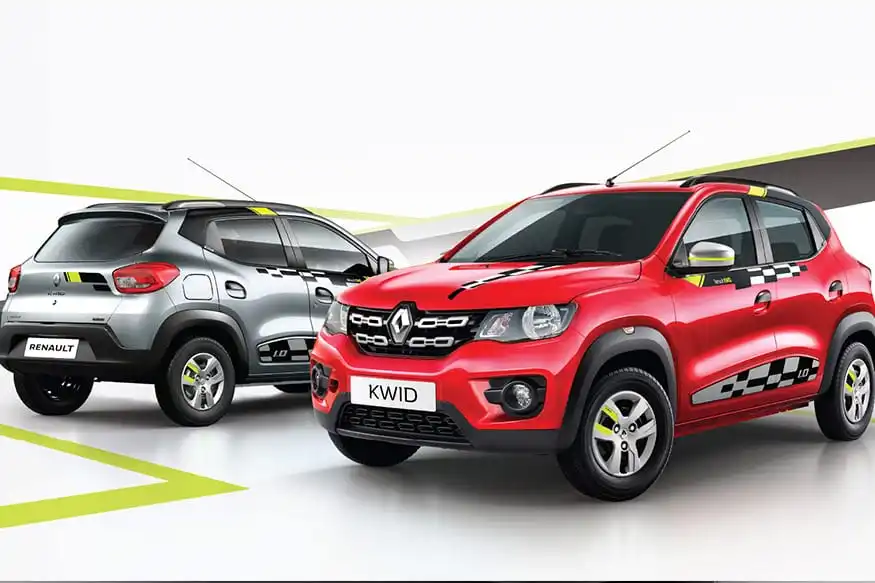 The Renault Secure Warranty: A promise of quality
Oct 01,2019
There are
0 Comments
on the post